'Essential' sea wall repair work on Dorset's coastline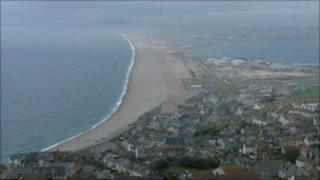 "Essential" repair work to Chesil Cove sea wall, Portland, has begun to maintain safe access to Chesil Beach.
The proposals include repairs to eroded steps and new handrails.
Concrete will also be placed at the base of the sea wall, which was constructed in 1965, to protect against wave damage.
It is hoped the work will be completed by April 2011, "subject to weather conditions", according to Weymouth and Portland Borough Council.
The work will be funded by a grant from the Department for Environment, Food and Rural Affairs (DEFRA), meaning there will be no direct cost to local taxpayers.
Public access to the promenade will be maintained throughout the works, however "the appointed contractor will need to move materials, construction plant, and equipment along the promenade, so public cooperation will be appreciated", a council spokesperson said.
Councillor Brendan Webster, brief holder for environment and sustainability, said: "I am pleased that works to repair the damage to the Chesil wall and steps are now underway.
"This is an area which is well used by residents, including families, children and the elderly, so it is vital that measures are taken to protect the public."
Residents who have questions or concerns about the work should contact Engineering Services at Weymouth and Portland Borough Council.
The repair work is part of the council's ongoing programme of improvements to the borough ahead of 2012 Olympics.