Man charged after armed Weymouth post office raid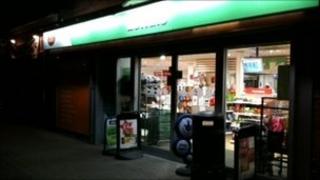 A man has been charged with several offences including possessing a firearm and robbery after a gunman raided a Dorset post office and went on the run.
Armed officers and helicopters had scoured Weymouth after the masked gunman raided the Londis store in Abbotsbury Road on Wednesday afternoon.
A man was arrested two days later in woodland near Broadmayne after a vehicle pursuit involving armed police.
Colin Douglas, 25, will appear before Weymouth magistrates on Monday.
Mr Douglas, of Weymouth, was remanded into police custody until then.
A 35-year-old Weymouth woman was also arrested on Friday night on suspicion of assisting an offender.
Another Weymouth man, a 39-year-old held on suspicion of assisting an offender, was released on police bail.
Mr Douglas was charged with the following:
Robbery at Abbotsbury Road Post Office on 2 March
Possession of a firearm while committing a schedule one offence on 2 March
Dangerous driving on 2 March
Possession of a firearm with intent to resist arrest on 2 March
Possession of a firearm while committing a schedule one offence specifically relating to the hijacking of a car on 2 March
Aggravated vehicle-taking on 2 March
Possession of a firearm with intent to resist arrest on 4 March