Dorset revised wind turbine plan rejected unanimously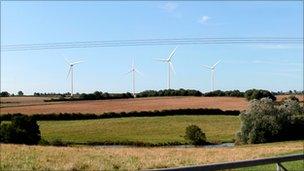 A revised application to build four wind turbines in north Dorset has been unanimously rejected by councillors.
Ecotricity wanted to build four 394ft (120m) turbines in Silton, near Gillingham.
The refusal goes against North Dorset District Council's own planning officer's recommendation to approve the turbines.
The revised application follows a rejection in July 2009 of similar plans to build six turbines at the site.
Mike Cheshire, spokesperson for Ecotricity, said: "It's disappointing that North Dorset District councillors seem set on rejecting new sources of green energy for Dorset.
"This means Dorset is still one of the only counties in England completely reliant on other parts of the country to keep its lights on, with no major source of energy of its own.
"The decision goes against the council's own planning officer advice, which deemed the site a good one for wind energy and a crucial contributor towards the renewable energy targets Dorset has set itself."
He said if the firm decided to appeal against the decision, it "could mean a great deal of wasted time and money for both us and the council, at a time when we all know every penny is needed".
The plans had come up against fresh opposition.
Chris Langham, chairman of campaign group Save our Silton, said last month: "Certainly, the problems are the same - the impact on the landscape, the proximity to houses and the noise.
"The new application doesn't address those problems."
Ecotricity responded by saying the nearest turbine would be more than 1km (1,100 yards) away from from Silton village.
However some people supported the plan, setting up a page on social networking site Facebook.
Related Internet Links
The BBC is not responsible for the content of external sites.