Dorset volunteer-run railway's poster campaign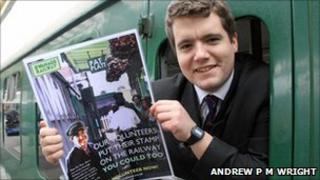 Swanage Railway's youngest volunteer train guard has created a new poster campaign to recruit more volunteers to work for the Dorset charity.
Bournemouth student Luke Farley, 20, designed the posters which feature photographs of existing volunteers.
They contain the line "Our volunteers put their stamp on the railway. You could too!".
Mr Farley said volunteers were "the lifeblood" of the award-winning preserved steam railway.
Two posters have been finished, showing volunteer guard Martin Boscott from Poole and female locomotive fireman Pat Platt from Langton Matravers, near Swanage.
It is hoped there will eventually be at least one poster to represent each of the railway's five main departments.
'Intensive timetables'
Mr Farley, who lives in Weymouth and is studying for a media production degree at Bournemouth University, has been a volunteer at Swanage Railway for two years.
He also carries out the roles of station porter, booking office clerk and ticket inspector.
He said: "The new poster campaign has been designed to initially run across our stations to reach people who travel on our trains.
"The need for volunteer staff is all the more vital as Swanage Railway operates one of the most intensive timetables of any heritage railway in the country."
The railway has been rebuilt from scratch by volunteers since 1976 and during 2010 its re-laid Purbeck Line carried more than 210,000 passengers - the second best performance in its history.
Mike Whitwam, Swanage Railway's liaison officer, said: "The Swanage Railway is like a large family and our volunteers - including myself - hugely enjoy their very professional work and derive a great sense of community service [from it]."
Mr Payne added: "The railway is already very successful but we have to continually find new volunteers to keep it going and move towards our goal of reopening the line to Wareham for regular passenger trains, so Swanage is again joined to the national rail network."
It was announced in 2010 that Swanage will be re-connected to the national rail network, restoring a link broken almost 40 years ago.
The Swanage Railway Trust had to raise £3m so Network Rail can connect the Swanage line to the main network for the first time since 1972.
The funding is needed for re-signalling of the Wareham to Swanage branch line at Worgret Junction.
Once the work is completed regular passenger train services will resume from Wareham to Corfe Castle and Swanage.