Lord Julian Fellowes backs Dorset library campaign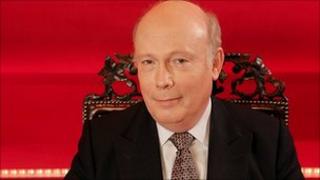 Oscar winning screenwriter Julian Fellowes has backed a campaign against council plans to close more than half of Dorset's libraries.
The library service plans to close 20 of the county's 34 libraries to save £800,000 by 2012.
The Association of Friends of Dorset Libraries (Ad Lib) has said the "cuts should be spread across the whole library service."
Lord Fellowes said he was against "the destruction of the library network".
The council said the small community libraries are not used by enough people and would be better managed by volunteers and a community trust.
Ad Lib are lobbying for opening hours of all the libraries to be cut by 10%, headquarters staff to be reduced by 10% and the amount spent on books halved.
Tim Lee, a spokesman for Ad Lib, will tell councillors at a meeting at County Hall in Dorchester on Thursday the prospect of losing so many libraries has proved "immensely unpopular".
He said: "The fact that nearly 14,000 people put their names to a petition in just a week, demonstrates the strength of feeling all over Dorset against the prospect of losing 60% of its libraries.
"We argue that the country's financial crisis is a temporary one and that measures to overcome it should be temporary too - and should not involve the wholesale permanent destruction of such a significant number of our libraries."
In his message of support to Ad Lib, Downton Abbey creator Lord Fellowes said: "This seems a very sensible approach and I only hope they [the council] will see it as such.
"You are not being collisionist or challenging the need for cuts, simply providing a solution.
"The more we appear to wish to help them find their cuts, the more likely we are to persuade them the libraries may be saved, after all."
Dorset County Council, which has to make savings to cover £54.9m in government funding cuts over the next three years, said it would continue to fund 14 main and town libraries and mobile services.
But it has invited communities to take over the 20 threatened sites.
A spokesman for the Conservative-run county council said the proposals for the library closures had been "referred back to councillors for more detailed work".
A public consultation is due to take place in the spring before the final recommendations are made at a full council meeting in the summer.
The 14 libraries which will remain open are: Blandford, Bridport, Christchurch, Dorchester, Ferndown, Gillingham, Highcliffe, Shaftesbury, Sherborne, Swanage, Verwood, Wareham, Weymouth and Wimborne.