Schedule for Olympic sailing events in Dorset released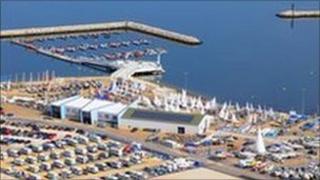 The schedule of sailing events in Weymouth and Portland for the London 2012 Olympic Games has been released.
Events such as the Finn, Laser and Star classes will run from 29 July to 11 August, with ticket prices ranging from £35 to £55.
Up to 50,000 visitors are expected to watch the sailing events during the Olympic and Paralympic Games in 2012.
Osprey Quay was the first site for the games to be completed and will host up to 400 international athletes.
British sailors began intensive training at the Weymouth and Portland National Sailing Academy after the Christmas holidays.
Other nations' teams are also set to train there over the course of the year.