Lapland New Forest brother 'not intimately involved'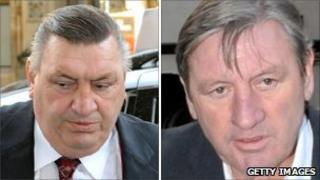 One of the brothers accused of running a Lapland-themed park told a court he was not "intimately involved" with the attraction.
Brothers Victor and Henry Mears are accused of misleading customers who visited Lapland New Forest in 2008.
Henry Mears, 60, told jurors Victor, 67, was the sole director and he was initially only involved with marketing and advertising for the park.
The brothers, both from Brighton, deny all the charges against them.
Henry Mears told Bristol Crown Court he later helped further with the attraction when his brother fell ill.
He said the park's failure was down to various parties, including Charlie Cooper who he said sabotaged the ice rink and prevented market traders from entering the site.
The court has previously heard Mr Cooper ran a car boot sale at the Matchams Park site and was paid £170,000 by Victor Mears.
Mr Cooper told jurors he introduced Victor Mears to local workmen in order to finish the site on time and also provided animals, including reindeer and donkeys, but never received any money.
'Value for money'
In court on Monday, Malcolm Gibney, prosecuting on behalf of Trading Standards, asked Henry Mears if he was he going to call any of the market traders to give evidence who he alleges Mr Cooper turned away.
He told the jury that he did not have contact details for any of them.
Henry Mears also admitted that the advertised "bustling Christmas market" was not something which visitors to Lapland New Forest would have found.
He said: "For the first weekend, I was shocked not to see 60, 70 stall holders there."
Mr Gibney said: "There was no bustling Christmas market."
Henry Mears agreed: "Not at all."
Henry Mears told jurors on several occasions that with a little more work the "Tunnel of Light" could have been as good as he and Victor had envisaged.
He also said thought the £30 ticket price, and £25 if booking four or more, was "exceptional value for money".
Henry Mears told jurors: "Whatever you do, you will find the public complain about something."
The brothers face five charges of engaging in a commercial practice which is a misleading action and three charges of engaging in a commercial practice which is a misleading omission.
They deny all the charges. The trial continues.