Dorset chalk stream habitat is restored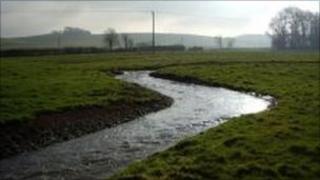 A chalk stream in Dorset has been restored in an effort to improve habitats for wildlife.
A 650m stretch was transformed in Winterborne Herringston, near Dorchester, as part of a project led by Dorset Wildlife Trust.
The temporary stream, called a winterbourne, flows only in the winter months and provides habitat for mayfly and blackfly.
Rare plants including water crowfoot also thrive in the conditions.
The work was carried out on the South Winterbourne stream south of Dorchester but similar projects are also planned for other streams around the county.
Sarah Williams of Dorset Wildlife Trust said: "These winterbournes are very special, appearing and disappearing quite naturally and providing a rare environment for wildlife.
"We have had previous success on the South Winterbourne at Winterborne Came, with both rare mayflies and blackflies recorded in the first season, so we have great hopes for Winterborne Heringston this spring."
The project is being funded by the Environment Agency and Wessex Water.