Portland highlights concerns over Dorset rural policing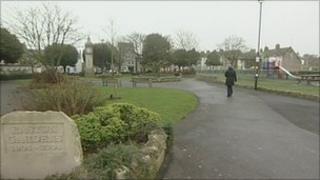 Members of a rural Dorset community have said they feel isolated and abandoned by the police.
A meeting between police and residents of Portland focused on youth crime and anti-social behaviour, following a mass brawl in Easton Square in January.
Assistant Chief Constable Mike Glanville said: "We're very concerned and are working with them to tackle perceptions about crime on the island."
He denied rural front line patrols would be reduced, despite funding cuts.
'Very intimidated'
Portland florist Lisa Zanders said: "I feel very intimidated walking through the park. Shop windows keep getting smashed, its not nice seeing your property damaged. I would like to see more police on the beat here."
Town councillor Chaz Charlton said: "They've got a lot to do to earn the trust of people on Portland. If you can't police your local youth, how can you police the Olympics?"
ACC Mike Glanville insisted there had been "very significant progress" and increased patrols had led to 48 arrests.
"Clearly residents don't feel safe. But over the last six months we've seen quite significant reductions in anti-social behaviour and crime. Portland remains one of the safest places in the county to live," he added.
Cuts impact
With the Dorset force facing funding cuts of 20% over the next four years, with about 100 posts being lost, there is concern that police cover of rural areas could be threatened.
Clive Chamberlain, chairman of Dorset Police Federation, said: "Rural areas will see less fully-warranted officers and there will be a resource-drift over to the conurbations of Bournemouth and Poole where they have more crime."
However ACC Glanville said: "We have no plans at the moment to make significant reductions in patrol numbers across the county.
"Despite the fact we are facing quite significant cuts, we are determined to make sure patrol officers and officers in safer neighbourhood teams remain on the ground and provide that front line service to the public."
More on the issues surrounding rural policing on the Politics Show - Sunday, 12 noon BBC One in the south and on BBC iPlayer.