Cardboard box Chinese Ming vase 'may fetch £1m'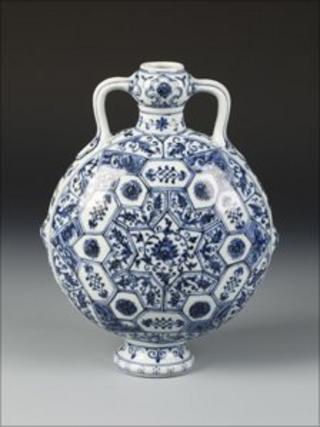 A blue and white Chinese Ming Dynasty vase that arrived at a Dorset auction house in a cardboard box is expected to sell for more than £1m.
The 11.5in (29cm) vase is the largest ever recorded from a rare group of early Ming "moonflasks" from 1403-1424, Duke and Son auction house said.
The Dorchester-based firm said it was believed to be one of the most exciting works of art to come to light in years.
The seller, a retired Cadbury's worker aged 79, does not wish to be named.
'Spectacular find'
A Duke's spokesperson said the man "lives modestly and has been interested in antiques for many years".
Guy Schwinge, of Duke's, said: "When my colleague initially showed me what had arrived in a cardboard box I could not believe my eyes.
"The vase is in perfect condition and it is amazing to think that it has survived unscathed for almost 600 years".
Duke's consultant for Chinese Works of Art is Anthony du Boulay, a scholar and author, who said the vase was "a spectacular find".
The vase will be sold at auction in May.