Plans to upgrade Hardy's Dorset birthplace on course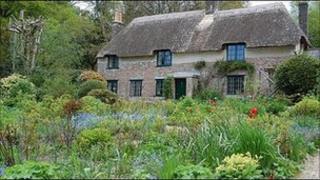 Plans to improve facilities near Thomas Hardy's Dorset birthplace have been given a £40,000 boost from the Heritage Lottery Fund (HLF).
Thorncombe Woods is 26 hectares [64 acres] of ancient woodland near Hardy's cottage at Higher Bockhampton.
Dorset County Council and the National Trust will use the award to develop their proposals for the woods in order to win a further £400,000 from the HLF.
The bid would include a learning space for school groups, the council said.
Hardy's cottage, which was built by his great-grandfather, has been overseen by the National Trust since 1948.
Hardy was born in the property in 1840 and went on to write his early novels including Far from the Madding Crowd and Greenwood Tree, there.
Helen Mann, the National Trust's West Dorset property manager, said: "We would like to use the project to introduce more people to Thomas Hardy and his writing and relate it in an imaginative way to the surrounding landscape."