Dorset coastguard gallantry medal given to navy museum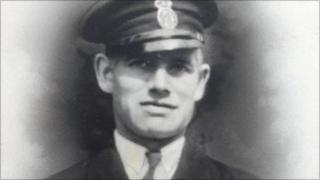 A rare medal, posthumously awarded to a Dorset coastguard officer, is being presented to the National Museum of the Royal Navy later.
The Silver Sea Gallantry Medal was awarded to Robert Henry Treadwell, 35, from Wyke Regis coastguard station.
He was one of two coastguards who died trying to rescue the crew of a navy landing craft wrecked on Chesil Beach on 13 October 1944.
The medal is being donated by Treadwell's step-son, Raymond Morris.
One of only seven awarded between 1937 and 1947, it will be presented to the National Museum of the Royal Navy in Portsmouth, along with research notes, photographs and original documents.
A special presentation ceremony will be attended by the chief executive of the Maritime & Coastguard Agency, Vice Admiral Sir Alan Massey.
Mr Treadwell and Mr Legh both died when they were swept away trying to secure a line to the stricken craft.
Nine of the 13 landing craft crew also died. It had been swept onto the shingle bank in a gale while en route from Dartmouth to Portland.
The survivors were rescued by another coastguard officer, George Brown who stayed in the sea for 30 minutes to pass lines to the remaining crew.
Mr Treadwell's body was later recovered at Chesil Cove. He was buried at Portland's Royal Navy cemetery.