Staff 'bullied' Lapland New Forest organiser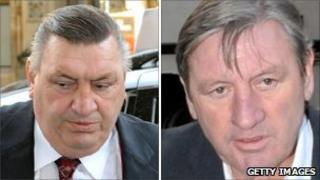 One of the brothers accused of misleading customers at a Christmas Lapland-themed park has told a court he was bullied by staff at the venue.
Victor and Henry Mears, from Brighton, organised the festive attraction at Matcham's Leisure Park on the Hampshire-Dorset border in 2008.
It closed days after opening following hundreds of complaints.
Victor Mears, 67, told the court he paid one worker at Matchams "quite a lot of money" but was short-changed.
Mr Mears showed Bristol Crown Court receipts for money he had invested in the attraction including £70,500 that was spent on toys to give to children and £5,000 on gingerbread men for them to decorate.
'Due diligence'
Mr Mears told the court his accounting had been thorough, but he had been "harassed" by staff at Matchams.
"I was in a position where I was getting harassed and bullied, but I wanted to get the work done," he said.
The court heard that illness meant Mr Mears eventually handed the running of the attraction to his son, Victor Junior, and his brother, Henry, aged 60.
He said: "I showed due diligence. I did everything I could to account for everything. These receipts show that I paid out the money and everything was accounted for. I insisted that everything should be accounted for."
Mr Mears said he was unable to provide receipts for money he gave to one Matchams worker, referred to in court as Mr Cooper, who he said had been paid to buy certain items.
The 67-year-old claimed Mr Cooper had short-changed him and kept money that was meant to pay for goods and services.
Company in liquidation
He said: "I have to say that quite a lot of the money I gave to Mr Cooper was not accounted for.
"This is a case where I was bullied by a man."
The court previously heard that the Mears brothers may have made more than £1m from the venture.
Visitors paid £30 a ticket and there were up to 10,000 advance bookings.
Prosecutor Malcolm Gibney said, following complaints, trading standards officers visited the park and were concerned with what they found.
The court also heard that Victor Mears, the company's sole director, was being assisted by his younger brother, who was managing the attraction.
The company behind the theme park, Lapland Newforest Ltd, went into liquidation, jurors heard.
The trial continues.