Revised revamp plan for Poole's Psychiatric hospital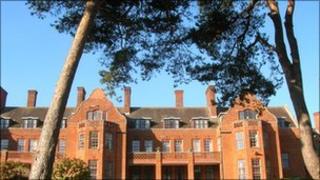 A hospital trust is to submit a revised plan to revamp a psychiatric hospital in a Grade II listed building after its first one was rejected by a council.
The Borough of Poole refused Dorset HealthCare University NHS Foundation Trust's initial design for St Ann's Hospital in December 2010.
It cited concerns over safeguarding the building's character and site and "the significant loss of protected trees".
The trust said the £35m plan would give patients "more privacy and dignity".
A four-hour public exhibition featuring the revised designs, which include four new wards, was held at the Church of the Transfiguration in Canford Cliffs earlier.
"The current facilities at St Ann's Hospital are out-dated and no longer meet modern healthcare standards," a spokeswoman said.
"The trust is now proposing to remove fewer trees, some of which have been recommended by the Borough of Poole, because they are either dead or diseased."
She added that the trust was also working with the council to ensure the plan "is more sensitive to the setting of the Grade II listed building".
St Ann's treats about 1,000 patients per year.
James Barton, director of adult mental health services at the trust, said: "We were naturally very disappointed not to achieve planning approval in 2009.
"Since this time, we have looked carefully at how we can adapt our plans in order to successfully create high quality accommodation in an attractive and therapeutic setting."
The trust will submit its planning application to the local authority in February.