Bournemouth's council cabinet may cut their allowances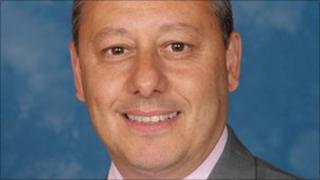 Bournemouth's councillors could reduce part of their own allowances to save a total of £24,714 a year.
The special responsibilities allowance paid to cabinet members was cut by 5% in August 2010. The size of the cabinet was also reduced from 10 to nine.
The Conservative cabinet will vote on making the reduction permanent in a special budget meeting in February.
But Labour councillor Ben Grower said it was "electioneering" which would make no difference to the budget.
If agreed, the measures would also be extended to chairs of statutory boards, panels and political group leaders.
The recommendation to make the changes permanent was tabled in a council meeting on Thursday night.
Council leader Peter Charon said: "I see no reason why we should not be proposing that that becomes a permanent arrangement.
"We are in extremely testing times financially and, although this is a relatively modest amount when compared to the challenge we face, I think it is important that each member is committed to finding efficiencies and savings in every way he or she can."
The cuts would affect 49 different roles and range from £46 for members of the adoption and fostering panel to £464 for the chairs of the planning and licensing boards.
Mr Grower said of the plan: "I personally do not mind at all, it doesn't make any difference to me, but it's just leading up to an election and this is just a bit of electioneering by Councillor Charon."
Bournemouth Borough Council's government grant was cut by £10m from £70m in 2010/2011 to £60m for the next financial year.
The whole council is up for election on 5 May.