Foam on Bournemouth beaches 'was castor oil'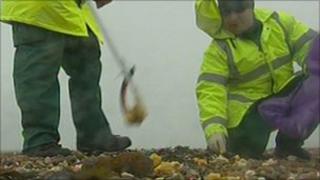 A foam that washed up on beaches in Dorset is believed to be castor oil, the council has said.
Bournemouth Borough Council said its seafront cleansing team spent Wednesday afternoon removing the yellow substance from the high tide mark.
The solidified vegetable oil was also discovered on beaches in Hampshire and West Sussex on Tuesday but is not a public health risk.
The council is working with the Environment Agency to monitor the site.