Charge for Weymouth park's Olympics sailing view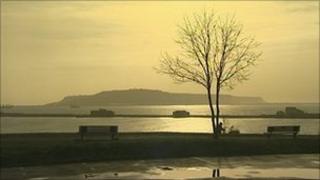 A proposal to charge entry to a Dorset park during the 2012 Olympics because it overlooks one of the games venues has divided local councillors.
Nothe Gardens in Weymouth offers views of Portland Harbour where the sailing events will be held.
The games organising committee and Conservative-led Weymouth and Portland Borough Council are considering using the site as a ticketed venue.
The council says the move would help pay for improvements to the park.
Ticket prices for the sailing events have already been confirmed at between £20 and £55.
Liberal Democrat councillor for Weymouth East, John Birtwhistle, said: "I wouldn't pay £50 to come up here.
"A lot of people come up here - local people - to walk their dog and they're going to be told 'you can't come up here'. It's not on."
Roger Allen, a Conservative councillor who also represents Weymouth East, said: "LOCON [London Organising Committee of the Olympic and Paralympic Games] have to manage large numbers of visitors and they have to fund putting a live site on the beach, which will be free to the public.
"The view is that they want to put something here and in exchange the borough will get considerable improvements to the infrastructure up here which, at the moment we can't afford to do ourselves."
LOCON said the use of the gardens as a ticketed venue would only be taken after public consultation.