Skin cancer campaign for over 50s to begin in Dorset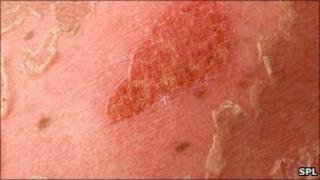 A skin cancer campaign targeting men over 50 is to get under way in Dorset.
The project led by Cancer Research UK comes as figures show Weymouth and Portland has the third highest malignant melanoma rate in England.
There were 25.35 cases per 100,000 people in the town and on the island between 2004 and 2006, the South West Public Health Observatory said.
The figure is almost double the English average of 15.6. Men tend to notice symptoms later than women, it added.
The campaign - overseen by Dorset NHS - which will also form the basis of a new study will be conducted throughout February.
It will also involve residents being leafleted and roadshow events in town centres.
Rise in deaths
The classic signs of melanoma are a change in the size and or colour of a mole, itching and bleeding, inflammation or pain.
Dr Julia Verne, director of the South West Public Health Observatory, told BBC News: "Men often present their symptoms later than women to their GPs.
"The moles are predominantly on the back in men and on the legs in women because in the past those were the most exposed places on the body and were more likely to get burned.
"The statistics were collated in relation to a national target to reduce the number of deaths from cancer overall in under 75s."
Cancer Research UK said: "Rates of skin cancer, including malignant melanoma which is the most deadly type, have significantly increased in the last 25 years.
"But finding skin cancer early saves lives.
"Cancer Research UK is running a series of campaigns in the Dorset area to work out how best to get men to recognise the signs of skin cancer and visit their doctor when they spot something unusual."
In May last year, the charity revealed the rate of men dying from malignant melanoma had doubled over the past three decades.
In the late 1970s fewer than 400 (1.5 per 100,000) men died from melanoma but that figure has now risen to over 1,100 (3.1 per 100,000), its own research showed.