Lapland New Forest nativity was 'drawing on trailer'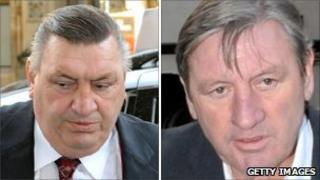 A father has described a nativity scene at a Lapland-themed attraction as "a drawing on a trailer" at the trial of the park's organisers.
Stephen Dimond told jurors his family's visit to Lapland New Forest in 2008 had been "shocking".
The park closed after a few days following hundreds of complaints.
Brothers Victor Mears, 67, of Selsfield Drive, and Henry Mears, 60, of Coombe Road, both in Brighton, deny misleading thousands of customers.
The court heard Mr Dimond and his parents paid a total of £150 to visit the theme park at Matchams Leisure Park on the Hampshire-Dorset border after seeing an advertisement in their local newspaper.
He said: "I was very encouraged by the pictures. It was the wording particularly which sold it to me - 'beautiful snow-covered log cabins', the 'breathtaking tunnel of light'."
'Long queues'
Mr Dimond, from Hampshire, whose son was four at the time, said when they arrived at the park, it was not what they expected.
"The first attraction was the nativity scene which was on a trailer, which I believe was around 200 to 300 yards away, which we looked at and dismissed it," he said.
"It was a drawing on a trailer. We moved on.
"My first impression? I thought it was a trailer on the other side of a muddy field and it was quite a long way away.
"It was shocking, from what I was expecting."
Describing the 'breathtaking tunnel of light', he said: "It was only at the end that we realised we had gone through it.
"I didn't recognise it and I walked straight past it. My wife looked round and said 'I think we've just walked through the tunnel of light'."
Mr Dimond said his family queued for two hours to see Father Christmas but gave up waiting because of the long queues.
He said the ice rink was broken and he "begrudgingly" paid extra for his son to go on some funfair rides.
Yesterday the court heard the Mears brothers may have made more than £1m.
With visitors paying £30 a ticket and with up to 10,000 advance bookings online, the brothers were set to make £1.2m, prosecutor Malcolm Gibney said.
The jury was told that, following complaints, two trading standards officers visited the park.
"The officers, having compared the website to what they saw on the ground, were concerned," Mr Gibney said.
The court was told that Victor Mears was the company's sole director but was being assisted by his younger brother, who was managing Lapland and was responsible for the promotion of the park.
The company behind the theme park, Lapland Newforest Ltd, went into liquidation, jurors heard.
The brothers face five charges of engaging in a commercial practice which is a misleading action and three charges of engaging in a commercial practice which is a misleading omission.
They deny all the charges.
The trial continues.