Disabled woman says mobility cash cuts must be reversed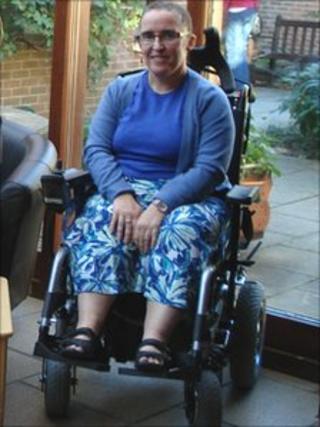 A disabled woman in a Dorset care home says the government's scrapping of mobility payments will have a "devastating impact" on her life.
From October 2012, the £49.50 a week "mobility component" of the Disability Living Allowance, for some care home residents and children, will be axed.
Wendy Tiffin, 44, lives at The Grange residential home in Poole, which is run by the Leonard Cheshire charity.
The 44-year-old, who uses a wheelchair, said she would lose her independence.
Ms Tiffin moved from her Yeovil home into The Grange two years ago after her 75-year-old mother found she could not take care of her anymore.
She told BBC Radio Solent: "I have to provide my own wheelchair and I literally will not be able to afford to maintain it or, when it wears out, buy a new one.
'Punitive measure'
"I will literally be stuck because I have not got the money to afford any local transport.
"They need to reverse that decision to give everybody back their lifeline."
The move, announced in the Spending Review in October as part of government plans to tackle the national deficit, is likely to affect thousands of disabled people.
The government says people in residential care will get the financial help they need and has promised to "protect the vulnerable".
But many disabled people have serious doubts.
Conservative MP for Poole, Robert Syms, told BBC Radio Solent: "I will be taking up the concerns of the residents at Leonard Cheshire with Maria Miller, who is a minister, to see if we can have a look at what is being proposed."
Thirty-seven MPs have also signed an early day motion calling for the decision to be reversed.
Douglas Alexander MP, Labour's Shadow Secretary of State for Work and Pensions, has described the move as "a punitive measure that could leave people in care homes more isolated".