Councillors to rule on Wareham wind turbine plan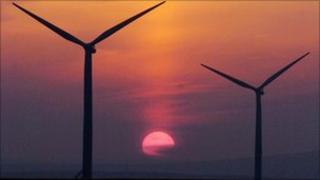 Councillors are to decide whether an application to build four 125m-high wind turbines in rural Dorset should be given the go-ahead.
Energy firm Infinergy wants to build the wind farm on land off Puddletown Road in East Stoke, near Wareham.
But Purbeck District Council planning consultants have recommended the bid be turned down over concerns about the environmental effects of the turbines.
The planning board meeting will be held at Purbeck School from 1900 GMT.
The proposed site, formerly Masters Pit, is near to a year-round Scout camp and is flanked by a designated Site of Special Scientific Interest, internationally important wetlands, a Special Area of Conservation and a Special Protection Area.
Planning board chairman Peter Wharf said: "The recommendation has been made after receiving expert advice and undertaking months of research.
"We have received over 700 written responses and all factors have been taken into account when preparing the recommendation."
But Herbert Lindlahr, Alaska Wind Farm's project director, said earlier there were "strict regulations in place to ensure adverse impacts on people's lives are avoided".