Bournemouth council 'prepared' for heavy snowfall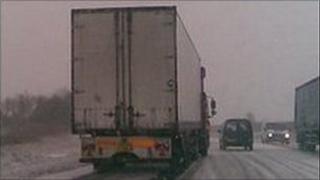 Bournemouth is gearing up for the predicted cold spell which, forecasters say, could bring one of the earliest significant snowfalls since 1993.
The council says its new fleet of gritters, bought in the summer, are "ready to go into action and 1,000 tonnes of salt have been stockpiled".
Contingency arrangements have also been made if further salt supplies are needed in the coming months, it added.
South-west England could see snow on Friday, according to forecasters.
Councillor Michael Filer, Bournemouth's portfolio holder for environment and transport, said: "Maintaining the road network is top priority and vital to keeping the public safe."
Stuart Best, street services manager, said: "We are monitoring the road surface temperatures round the clock now through strategically placed sensors and will take necessary action as weather patterns dictate.
"We have already done an occasional gritting run on exposed areas of the Wessex Way this year but with the predicted cold snap in the next few days we anticipate this will be stepped up dramatically."
The local authority said it spent £120,000 on the gritters.
It has also formed a consortium with four other councils in the region to buy salt supplies. The authorities will help each other out if supplies run low.
BBC forecaster Matt Taylor said: "We've had snow earlier than this, but to have as much as this across a large part of the country, we have to go back to about 1993."