Dorset Aids memorial wall completed in Bournemouth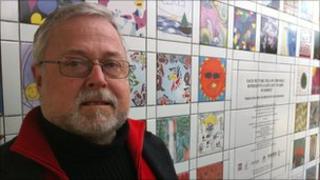 The final pieces of a memorial wall in honour of over 400 people who have died of Aids across Dorset have been laid.
The colourful tiles, each one designed by students, cover an underpass at Pier Approach, Bournemouth.
The project was created by Dorset Aids Memorial Schools Educational Trust and will be officially unveiled on 1 December, to mark World Aids Day.
The charity's founder and long-term HIV survivor Andrew Armstrong said it had been created to encourage awareness.
There are more than 600 people living in Dorset who have HIV or Aids, with about 40 new diagnoses each year, according to Body Positive Dorset.
The organisation, which helps people whose lives have been affected, said 58% of diagnoses in Dorset last year were of heterosexual non-drug users.
Mr Armstrong, 70, said there were still great misconceptions about the disease.
"The idea has always been to raise HIV/Aids awareness among young people and the community at large," he said.
"Overseeing this project has made my life worthwhile. People are stopping to talk about it and to look.
"People seem to think it has gone away whereas in fact it has not, it has got worse, and there are more and more infections being diagnosed every year, it's horrific."