Anger as Dorset tip refuses dumped TVs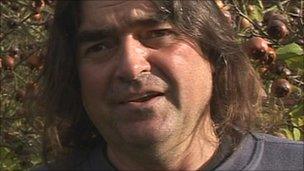 A man who took two televisions to a tip after finding them on a Dorset road was refused permission to leave them - because they were not from his house.
Steve Bewers, a gardener and handyman from Milton Abbas, saw the TVs beside a beauty spot near Shillingstone.
He tried to leave them at Blandford tip, a household waste and recycling centre, who refused to take them.
Officials apologised but said fly-tipped rubbish was not legally household waste.
Mr Bewers eventually took the sets to North Dorset District Council's offices in Blandford.
He said: "I love this county and I like living here and it's a beautiful place, I consider it a privilege.
"I see these things lying about on the side of the road, so I think 'let's get rid of them'."
But he said he could not believe the response of the workers at the tip to his good deed.
"I know the guys up there, we get on well and they do a good job.
"But I just happened to mention, casually, that I'd found them on the side of the road and suddenly they sort of bristled and said: 'Oh you can't dump them here then'.
"We're supposed to be pulling together in times of horrendous financial difficulty, the government has put this idea of 'we can all lend a hand', and yet when we do try to lend a hand it gets bitten off."
Steve Burdis, head of waste management at the tip, said: "We apologise for any inconvenience caused to the local resident but unfortunately fly-tipped waste is not legally considered household waste and therefore we cannot accept it at our household recycling centre."
Dorset County Council advised anyone finding fly-tipped rubbish to report it to them, so they could investigate.
Related Internet Links
The BBC is not responsible for the content of external sites.