Dorset Police urged to use text messages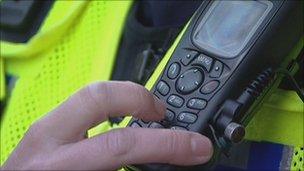 Police officers in Dorset are being encouraged to send text messages instead of talking on their radios.
The force says it wants officers to text routine messages such as "returning to base" to free-up control room staff and cut costs.
The radio service is provided by a private operator, and each year a price is set for a certain amount of air time. Any excess costs £2 per second.
Dorset Police is spending £50,000 a year on the excess.
Messages would also include updates such as: "I'm on patrol" and "I'm having a break".
Andy Bennington, head of information services at Dorset Police, said despite the £50,000 excess charges, the texts would mostly help increase efficiency in the control room instead.
"It may reduce costs slightly, but overall I don't think it will, it's more about being efficient in our control room, and not having control room staff tied up trying to update the duties of officers," he said.
"Officers can directly do that themselves very quickly and easily [by text] from the radio."
Clive Chamberlain, the head of Dorset Police Federation, which represents the force's officers up to and including chief inspectors, said the current cost to Dorset Police from the excess charge was too high.
He said: "Particularly if you have a major incident or a normal Friday or Saturday night, we're going to use the radios quite a lot.
"If they go over the estimated level then a surcharge kicks in, that's £2 a second, which I think is extortionate - especially at a time when people in the police service are losing their jobs."
Related Internet Links
The BBC is not responsible for the content of external sites.