Police payout to injured Bournemouth teenager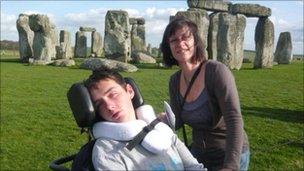 A boy left severely brain damaged in a collision with a police car has been awarded substantial damages.
Greg Love - then aged 13 - was cycling to his Bournemouth home in December 2006 when he was hit by the car, which was attending an emergency call.
The 17-year-old's family began a legal bid for compensation from Dorset Police Authority, which settled out of court for an undisclosed sum.
Dorset Police said it "deeply regretted" the incident.
An Independent Police Complaints Commission (IPCC) investigation in May 2008 found that the police driver was not to blame.
The family's solicitors issued a High Court writ in October 2009 claiming that the driver was travelling too fast with poor lighting and limited visibility.
The family sued Dorset Police Authority, which disputed liability.
Judge Sir Christopher Holland said the issue of liability would have been problematic if the case had gone to trial.
Greg's father Chris, who was at the High Court in London, said: "We are pleased that the situation has been resolved and we can now concentrate on Greg.
"This has been a long journey. It will allow us more opportunity in the future to make sure Greg has got the help he might need."
The collision, in Talbot Avenue, happened close to Greg's home on 5 December 2006.
The former Bournemouth Grammar School student spent three weeks in a coma and now receives 24-hour care, spending weekends with his family.
A force spokesman said: "Dorset Police is pleased that the matter has been resolved amicably and that a settlement was reached without any acceptance of liability.
"The accident, which changed the course of this young man's life so tragically, is deeply regretted."
Related Internet Links
The BBC is not responsible for the content of external sites.