Mitchell's plans for AFC Bournemouth's new stadium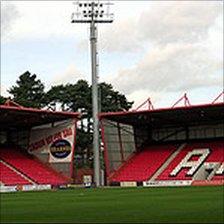 AFC Bournemouth have revealed plans to develop the football club's stadium.
Club chairman Eddie Mitchell said proposals for a new south stand at Dean Court, in King's Park, Boscombe, could include a hotel and spa complex.
The club said it was preparing plans now, even though it does not currently own the stadium.
Mr Mitchell said the League One side, which is known as the Cherries, hoped to eventually turn the ground into a 14,000 capacity stadium.
The plans also include two new training pitches.
Mr Mitchell admitted the project could take "some time" but said he wanted to start looking at ideas as well plans for the club to buy back its stadium.
"If we don't start planning now it's never going to get done," he said.
"Basically, we are forward thinking, hoping one day we'll eventually be able to get the ground in our ownership and look to filling the south stand.
"I'm ambitious and I'm just forward thinking, trying to push the whole park along, making it a nice place for people to come and just to help lift up the area and the football club."
The League One club sold its stadium for £3.5m to a property company to avoid going into receivership in 2005.
The developer then leased it back to the football club for about £300,000 a year.
Related Internet Links
The BBC is not responsible for the content of external sites.