Bournemouth development plans unveiled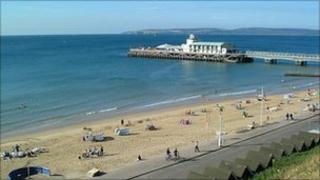 A blueprint for how Bournemouth council wants to see the town developed has been unveiled.
The Town Centre Vision document covers 30 sites in the Dorset town and plans include building up to 2,000 new homes.
It also includes creating a water-based family attraction on Bath Road South, near the Imax complex which the council plans to demolish.
The draft will be discussed by councillors on 4 October before a public consultation in November.
If approved, it would "bring a reshuffling of car parking with the same number of spaces provided in fewer, larger car parks", the council said.
Winter Gardens homes
It wants to reinstate the car park on Exeter Road as a bus hub, which would also house a shop mobility scheme, new shops, a hotel and a leisure attraction.
The Winter Gardens area could either be used to build homes and hotels or for a "family attraction".
The central car park has been earmarked for new homes.
Councillor John Beesley, deputy leader of Bournemouth Borough Council, said: "Until now town centre development has been piecemeal.
"By taking a comprehensive look at all of the town's major sites we can help ensure changes in one area complement and enhance those taking place on another.
"We hope to increase the number of people living and working in and visiting Bournemouth.
"There are numerous sites around the town which could be better used to help secure our place on the map as a premier destination."