West Dorset council's £11m office relocation agreed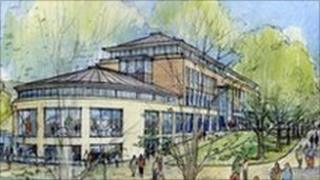 Controversial plans for a £60m revamp in Dorset, including the relocation of council offices, have been approved.
More than 250 letters of objection were received by West Dorset council against the Dorchester's Charles Street scheme.
Many were angry at the authority deciding to spend £11m to relocate to new offices - a move the authority claims will save £145,000 a year.
Simons Developments said the plan, which will also see new shops, a hotel and 18 homes, will create 784 jobs.
Campaigners held a demonstration at the meeting on Tuesday but their objections failed to stop councillors agreeing the plans.
Mike West, co-founder of Dorchester Forum website, said: "The offices have been there for 40 years and the council has maintained them.
"The amount of money they are talking of spending is out of proportion with any productivity gains they are talking about."
He said it was not the right time to spend money on new offices while there was uncertainty about the impact of government spending cuts on local authorities.
Councillor Robert Gould, leader of West Dorset council, said: "We simply can't go on like this, spending huge amounts of tax payers money maintaining and running buildings that will never be suitable for offices.
"Obviously there is a cost to moving, but the figures show that this will be outweighed by the significant fall in running costs."
Mark Newton, development director at Simons, said: "These proposals represent £60m of future private investment in Dorchester at a time when few towns in the UK are seeing this kind of commitment from developers.
"The new retail, leisure and residential units will help to secure the future of the town centre, benefiting existing businesses in Dorchester as well as attracting other retailers into the town.