Poole council painted dog mess trial extended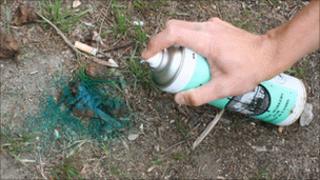 A council has extended a trial where piles of dog mess are spray-painted bright colours to shock owners into picking up their waste.
Poole council began the action in August after about 200 piles were found in an alley near Poole High School.
Workers painted any left on the verge green and removed them a week later.
Piles of mess have now been painted at Haskells Recreation Ground and will be removed next week. An opposition councillor branded the idea "bizarre".
But the authority said it believed less waste had been left at the Poole High School site during the week of action.
£50 fine
A council spokeswoman said: "Another area is being targeted after reasonable success during the first trial.
"It is unlikely that this idea will be rolled-out on a borough-wide scale but in certain troublespots it is another way of tackling the problem."
The Conservative-controlled council said it hoped the paint would show the scale of the problem to dog owners after previous efforts to stop the problem failed.
A new orange colour is being used at Haskells Recreation Ground to make the piles show up better against the grass.
The authority said it does its best to catch those responsible, but it is difficult to catch them in the act.
Opposition councillor Brian Clements said previously that council workers should be spending the time finding these people rather than "painting piles of dog poo".
People who do not clean up after their dog can be given a £50 fine.
If they refuse to pay, they can be prosecuted and may face a court appearance with a maximum penalty of a £1,000 fine.