Poole council leader Brian Leverett dies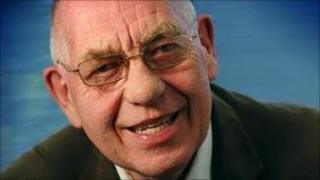 Tributes have been paid to a council leader who has died.
Councillor Brian Leverett, leader of Borough of Poole council, passed away in hospital on Friday after collapsing at the civic centre.
The 69-year-old, who was born in the town and was elected as a councillor in 1983, became council leader in 2003.
Mr Leverett had campaigned for the creation of the twin sails bridge, connecting Hamworthy with Poole port, while in opposition and as leader.
Deputy leader Don Collier said it would become a "lasting memorial".
He said: "He has worked tirelessly on that bridge in opposition and as leader and he was tremendously pleased that we had managed to secure it.
"It's a hugely important thing for Poole".
The Mayor of Poole, Councillor Chris Bulteel, said Mr Leverett had given many years of "selfless service".
He added: "Brian was deeply committed to Poole.
"He will be hugely missed by the council and all who knew him, especially those in his local community."
John McBride, chief executive of the council, said: "Brian was a hugely popular and immensely respected figure within the council.
"He devoted more than 25 years of his life to serving the council and the people of Poole."