Reward after eight six-week-old Dorset puppies stolen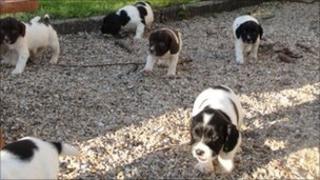 A couple left "devastated" when their eight six-week-old puppies were stolen from their Dorset garden are offering a reward for the animals safe return.
The English Springer Spaniel puppies were taken from Jennie and Rupert Tory's home in Winterborne Whitechurch, near Blandford Forum, on Saturday.
They believe thieves broke in to a kennel between 1700 and 1800 BST, loaded up the puppies and drove off.
Police said they were investigating and appealed for witnesses.
Five of the puppies have black and white markings, three of which are female and two males.
Another three puppies are brown and white in colour, one of which is female and two male.
Mr Tory said the rural community in Winterborne Whitechurch had pulled together to appeal for help in finding the animals.
He said: "The side of the kennel has been ripped off and whoever has done that has loaded the puppies up into a box and carted them round the front of the house into their vehicle and driven off in broad daylight."
He said the local shop in nearby Milborne St Andrew had told him that three men with a white van had bought a "large quantity" of dog food the day before, which may be linked.
All eight pups have individual markings and are docked, which has to be done by a vet, Mr Tory added.
The couple are offering a £1,000 reward for the safe return of the whole litter, or £200 for each puppy.
He said they were "worthless" without the right paperwork and that he and his father had intended to keep two of the animals.
Anyone with information is asked to contact Blandford Police station.