Bournemouth council bids for Imax purchase order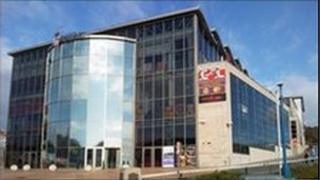 Bournemouth council is hoping to be granted a compulsory purchase order (CPO) so it can demolish an "eyesore" building which blocks sea views.
The Waterfront building houses an Imax cinema which opened in 2002, but closed three years later.
The authority wants to replace the Imax, owned by businessman Peter Curistan's Sheridan Millennium firm.
A public vote saw a new water park prove popular. Councillors will vote on Tuesday whether to grant the CPO.
'Remain optimistic'
CPOs can be used by a local authority to obtain land for redevelopment when the owner does not wish to sell.
The council must demonstrate that the taking of the land is necessary and for a public purpose.
Councillor Peter Charon, leader of the council, said: "Our negotiations with the leaseholder of the Imax unit continue and we remain optimistic that we can reach a settlement.
"However, to make sure that we secure the lease so that we can achieve the residents' aspirations for the site, we are also progressing a compulsory purchase order.
"As soon as we have this we can turn our attentions to finding a developer that will deliver an all-weather facility and building on site that we can finally be proud of."