First suburban average speed cameras turned on in Poole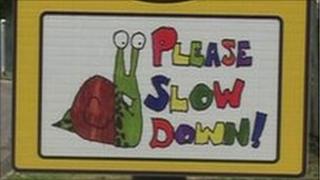 The first average speed cameras in a residential area in the UK have been switched on in Dorset.
The cameras, which measure speed over a stretch of road, were turned on outside Springdale First school in Poole.
Until now, average speed cameras have only been seen through A-roads and motorways.
The school was chosen for the six-month trial by nearby engineering firm Siemens, which is running the system and collating all the information.
However no offending motorists will be prosecuted until the system gets Home Office approval.
Mark Bonner-Moris, of Siemens, said: "Essentially we cannot prosecute them because the system has not got Home Office approval.
Child designs
"Ultimately, once the system is Home Office-approved, which will hopefully be early next year, they can be prosecuted.
"Until that time, all we're trying to do is demonstrate the effectiveness of the system."
Children at the school have designed road signs to accompany the new cameras.
Schoolgirl Eryn Young, whose design is being used, said: "It's a message for cars to slow down so people can cross the road and no-one can get hurt."
Head teacher Ruth leach said: "Road safety is an integral part of the curriculum and has been for many years, so this is just a part of that message for the children."