Twelve men arrested in Bournemouth drug dealer raids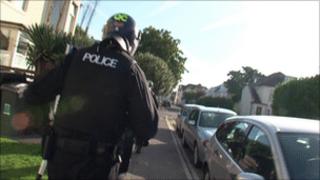 Twelve men have been arrested during drugs raids aimed at catching dealers across Bournemouth.
Officers executed warrants at 11 addresses earlier in Boscombe, Westbourne and Lansdowne, seizing stolen goods, drugs and money.
The men, aged between 16 and 47, from Bournemouth and London, were arrested on suspicion of drugs offences.
Police urged residents to come forward with any concerns linked to drug dealing in the area.
Det Insp Michael Mullen, of Bournemouth police, said: "[This] is a countywide operation which aims to tackle the supply of Class A drugs and associated crime and disorder.
"It is, as ever, essential that residents of Boscombe and the surrounding area continue to tell us about the issues in their area."