Dorset buses carry coastguard's 999 appeal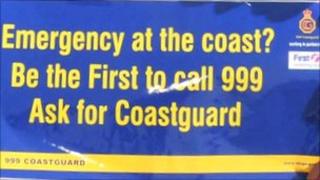 A coastguard message asking people to call 999 if they spot someone in trouble is displayed on buses in Dorset, Devon and Cornwall.
More than 350 posters, produced by Her Majesty's Coastguard, have been placed on the back windows of dozens of buses in the three counties.
The regional campaign is aimed at raising awareness.
"We want to remind people that we are the the fourth emergency service," a coastguard spokesman said.
Mark Rodaway, from Her Majesty's Coastguard, said: "It is vitally important that people dial 999 and ask for the coastguard when they spot anyone in trouble, on the beaches, cliffs and seas around our coastline."
Marc Reddy, managing director for First in Hampshire and Dorset and Devon and Cornwall, said: "We hope that this campaign will increase the awareness of the coastguard, ensuring that people know what to do if they spot someone in difficulty."