First seahorse baby celebrated at Dorset colony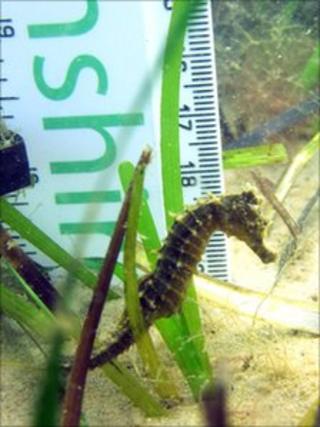 Conservationists are celebrating the discovery of the first baby seahorse found at "Europe's most important breeding colony" in Dorset.
The spiny seahorse baby, or fry, found at Studland Bay, is 4cm (1.6in) long.
The Seahorse Trust claims the creatures are endangered due to mooring chains from boats ripping up the seabed.
Government body the Marine Management Organisation said although studies were ongoing there was no indication that mooring chains disturb seahorses.
The Seahorse Trust is calling for protection of the creatures under the Wildlife and Countryside Act, obtained in 2008, to be actioned.
'Green moorings'
"The trust and its volunteer divers have seen adults, pregnant males and juveniles on the site before but never a baby (fry)," a Seahorse Trust spokesperson said.
"It does not mean they are thriving, quite the reverse, they appear to be hanging on in there against the odds of hundreds of boats dropping anchors and mooring chains ripping up the seabed, destroying their fragile home."
The trust wants to see moorings replaced with environmentally-friendly ones that do not destroy the seagrass, and for anchor-users to switch to the "green" moorings.
"After all the hard work of the thousands of volunteer divers who gathered the data to get them protected it is frustrating that the law is not being implemented on the UK's most important breeding site for the spiny seahorse," the spokesperson continued.
The trust said it took six years to get Britain's two seahorses, the spiny seahorse and the short snouted seahorse, protected under the act, which came into effect in April 2008.
A spokeswoman for the Marine Management Organisation (MMO), which has a number of responsibilities for marine welfare, said currently there is no indication that mooring chains disturb sea horses.
She added: "But studies in this area are ongoing and we will always take into account the latest scientific evidence available."