Wareham children's centre reopens after lead thefts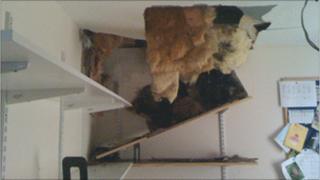 A children's centre forced to shut when the roof collapsed after it was targeted by lead thieves has reopened.
Equipment was also damaged inside Wareham Children's Centre in Streche Road after lead was taken from the roof three times in a week in early August.
Rainwater leaked through the ceiling, which collapsed, and the centre was deemed unsafe for families to use.
Builders have now repaired the roof and the remaining lead has been replaced with fibreglass.
They have also fixed the damaged ceiling and plasterboard, redecorated the centre and fitted new carpets.
Most groups were relocated to children's centres in Upton, Swanage, while the repairs were carried out.
Keeley Grennan, Dorset County Council children's centre manager, said: "Thank you to everyone for their patience.
"I'm really glad that we're open again and look forward to seeing children and their families back at their local centre."
Dorset Police are investigating the thefts.