Swanage railway reconnection to network to go ahead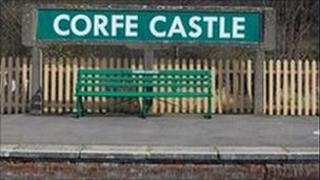 A Dorset town will be re-connected to the national rail network, restoring a link broken almost 40 years ago.
The Swanage Railway Trust had to raise £3m so Network Rail can connect the Swanage line to the main network for the first time since 1972.
Purbeck District Council announced its support on Thursday a week after Dorset County Council gave its backing.
The funding is needed for re-signalling of the Wareham to Swanage branch line at Worgret Junction.
Steam trains
Once the work is completed regular passenger train services will resume from Wareham to Corfe Castle and Swanage.
The line is currently maintained by the Swanage Railway Trust which runs regular steam train trips between Norden and Swanage.
Councillor Beryl Ezzard, Purbeck's housing and social issues spokesperson, said: "The proposal helps to underpin one of the targets set out under the council's priority of helping all people access services locally.
"It has been a long journey to get to this point, but we can now progress to once again linking the district by rail, which will have enormous benefits for residents, commuters and visitors, and relieve congestion in the district."
Dorset County Council will now confirm to Network Rail that the reconnection will be included in the Purbeck Transportation Strategy.
The strategy was set up to improve movement around the district, taking traffic away from the congested A351 by using alternative forms of transport, a spokesman from the district council said.