New Shitterton village sign set in stone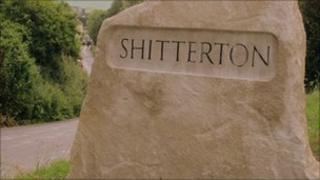 Villagers in the Dorset hamlet of Shitterton have got so fed-up with their sign being stolen they have put up a stone version.
They hope the £680 sign, which is set in concrete, will deter thieves.
Previous signs have frequently been stolen but had not been replaced since the last theft three years ago.
Villager Ian Ventham said: "Every two or three years somebody comes along and nicks our sign because, clearly, Shitterton is amusing."
He added: "Purbeck District Council, not being over-endowed with money at the moment, would merely have replaced it with yet another sign.
"That would have been stolen so we have got together as residents for a whip-round and bought this wonderful piece of Purbeck stone which, at a tonne-and-a-half, is going to be slightly more difficult to take away."
The 62-year-old, who has lived in the hamlet near Bere Regis for 20 years, said it was his wife's idea and said: "I think we have made our contribution to David Cameron's 'Big Society' now."
Shitterton is recorded in Norman French in the Domesday Book as Scatera or Scetra which, translated, means a little town that is on the stream of a midden or sewer.