Prison officers march to Tolpuddle over union rights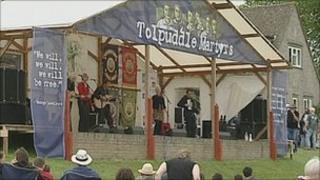 Prison officers and trade unionists have marched from Dorchester Prison to Tolpuddle in protest at losing their union rights to take industrial action.
About 60 people set off on the three-hour march through Dorset on Sunday morning. They arrived at the Tolpuddle Festival after midday.
A law banning prison officers from taking industrial action was reintroduced by the government in 2008.
The march has been organised by the local branch of the POA.
Mike Sear, branch chairman of Dorchester POA, said: "This is something we do every year because we want our trade union rights back.
"Bizarrely enough, we [prison officers] are probably the only unionists who can be put in prison for taking industrial action."
'Friendly society'
The Tolpuddle Festival celebrates the story of the Tolpuddle Martyrs - six farm workers who were sent to Australian penal colony for forming the first trade union in 1834.
The labourers had formed a "friendly society" - a forerunner to a trade union - and sworn an illegal oath to protect their falling wages.
They were put on trial at Dorchester Crown Court and sentenced to seven years transportation.
But the outrage about their punishment caused protests across the country and after four years they were given a complete pardon and they returned to England.