US abortion: Protest march held in Plymouth after decision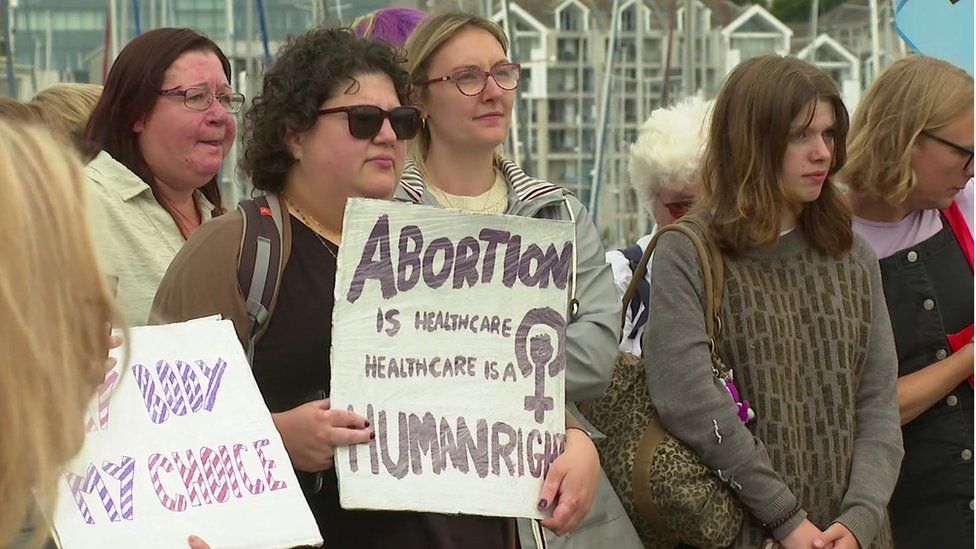 People gathered at Plymouth's Mayflower steps to "show solidarity" with women in the states.
Dozens of supporters marched around the Barbican with placards and listened to speeches by pro-womens' rights campaigners on Saturday.
A small number of counter-protesters also attended the event.
Organiser Mel Sebieri said: "We've organised a solidarity march for the women of Plymouth and anyone who wants to support, to show our anger for the women of the US who had the overturn of the abortion law this week".
"We've got a Democrats abroad group here where there are women citizens of Plymouth who are from America.
"We know how important it is to them, how emotional this week has been for them," she added.
Mel Sebieri said there was some concern about the right to abortion in the UK in the future.
Abortion has been legal in Great Britain since 1967, when a new law allowed terminations up to 24 weeks in most circumstances - although this was not extended to Northern Ireland until 2020.
Sebieri said: "In this country you have to have to have two doctors sign off for an abortion and you have to have a psychological assessment to check you are of sound mind to go through with it - that's not good enough and I think that's come to light for a lot of us this week".
Deputy Prime Minister Dominic Raab said on Wednesday the right to abortions in the UK is "settled" and there is not a "strong case for change".