Care home residents bring ducklings into world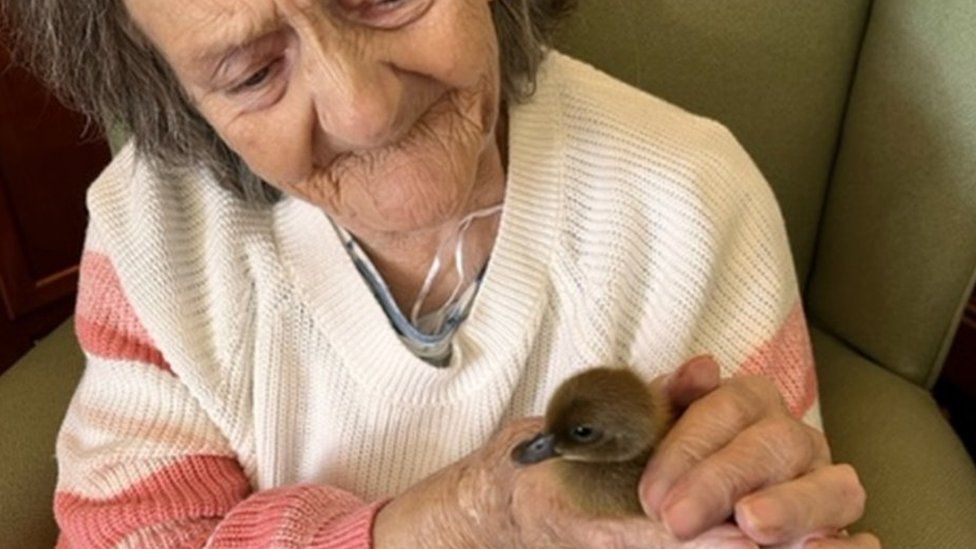 Six ducklings have been brought into the world by residents at a care home.
People at Moors Park House, near Teignmouth, in Devon oversaw the eggs in an incubator and cared for the ducklings.
Resident Yvonne Wild said: "We don't know how precious these things are."
The ducklings were brought to the care home as part of its animal therapy programme which has previously included visits from giant snails, a dog, chickens and rabbits.
Ms Wing, 82, said: "It was a wonderful thing to hold the ducklings.
"It made me smile as I love animals - it brought back memories of the poodles I used to have."
Linda Lowe is manager of the care home which specialises in caring for people with dementia.
She said: "Yvonne held the ducklings every day and it was lovely to see her face light up every time she saw them.
"We do a lot of animal therapy here and these ducklings have had a very positive impact on our residents."
Jane Stuart, co-founder of Incredible Eggs which supplied the incubator and eggs, said: "It's incredibly moving to hear from the staff how involved their residents have been in the project and what a joyous, life-enriching experience it has been for them."
The ducklings have now been taken to a small family-run farm in Cornwall.
The staff and residents at the care home said they hoped to enjoy the experience again next year.