Man and woman who stamped vulnerable man to death jailed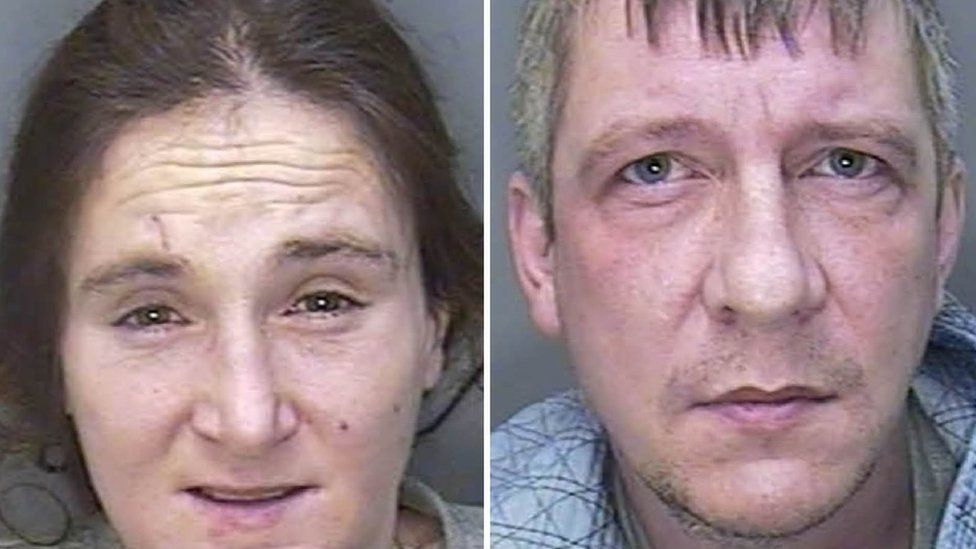 A man and a woman who murdered a charity shop volunteer with learning disabilities have been jailed for life.
Lee Chugg and Jodie Swannick kicked and stamped on 60-year-old Stephen Fogg at his home in Wembury, near Plymouth in December while looking for alcohol or money to steal.
The drug addicts denied murder but were found guilty at an earlier trial at Exeter Crown Court.
Chugg must serve a minimum term of 20 years and Swannick 18 years.
Chugg, 42, of Knighton Road, Plymouth, and Swannick, 32, of no fixed address, had been drinking vodka and taking heroin before they went to Mr Fogg's home in Hawthorn Drive on 14 December, the court heard.
Sentencing, Judge Peter Johnson said it was a "brutal" attack and both defendants had shown a "callous indifference" to whether Mr Fogg died or not.
The judge said of the defendants: "All that mattered to them was to save their own skins. They were held together by the grizzly bond of knowing what they had both done."
Chugg and Swannick knew the victim and had visited his house on a number of occasions.
Both blamed the other for his death but forensic evidence showed they carried out a joint attack, which left Swannick's shoe print on Mr Fogg's face and Chugg's bloodstained trainer print on the victim's Plymouth Argyle shirt.
The pair then rifled through Mr Fogg's pockets before fleeing the scene without calling an ambulance.
Police tracked them down at another house in Plymouth eight days later after Mr Fogg's body was discovered by one of his carers.
He was found to have 31 external injuries to his head and neck, including numerous skull fractures, and there was bleeding to the left side of his brain.
He also had 27 fractures to 19 of his 24 ribs.
Mr Fogg, who had learning disabilities and autism, worked part time in the Red Cross shop in Plymstock.
He had got to know Chugg through his daily visits to his local village shop where he would spend the £7.25 allowance he got from his carers.
However he had become more wary of Chugg after suspecting him of stealing his television set during a burglary some months earlier.
Following the sentencing hearing, Det Insp Ilona Rosson of Devon and Cornwall Police said Mr Fogg was a "vulnerable man and trusting of everyone".
She said: "Chugg and Swannick took advantage of his vulnerabilities and, on that night, subjected him to a prolonged, brutal and senseless attack."
She said CCTV and expert evidence exposed "lies from both Chugg and Swannick who attempted to blame each other for the events that night and explain away the evidence against them".
Related Internet Links
The BBC is not responsible for the content of external sites.