Schoolboy with brain tumour inspires charity fundraiser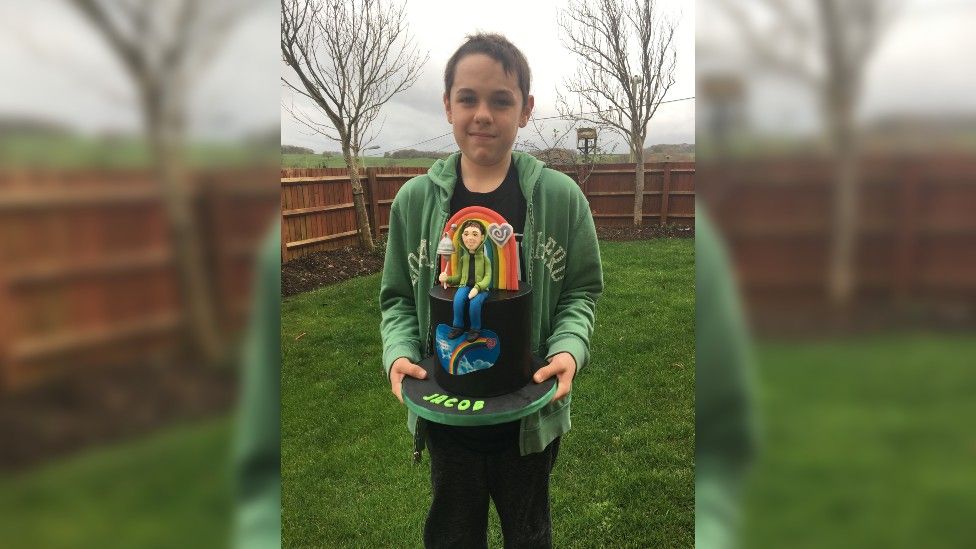 A 15-year-old boy living with a brain tumour has inspired his mother to take part in a charity fundraiser.
Jacob Coldman's sudden diagnosis came after a routine eye test that revealed unusual results.
The schoolboy from Winkleigh in Devon, has had 18 months of chemotherapy.
He was treated at North Devon Hospital where after two operations and more than 13 hours of surgery, his tumour was deemed inoperable for fear removing it would cause him to go blind
Jacob's mother Elaine Coldman, said the experience opened her eyes to the lack of treatment options available.
She said: "We nearly got to a point where the treatment was so harsh that we wondered if it was worth it.
"Jacob lost a third of his body weight within the first cycle of chemo, vomiting every hour.
"He had to have platelet transfusions as well as blood and fluid transfusions because the chemo was so toxic - this became a regular practice with each round he had.
"Seeing our boy go through this experience has opened our eyes to the lack of treatment options that are available for anyone who receives this horrendous diagnosis, let alone a child."
Jacob now has regular scans and eye tests to monitor his tumour, which has left him with visual impairment and endocrine deficiencies.
Mrs Coldman, who said her son's last scan was stable, re-trained as a fitness instructor and has been inspired to take on the Brain Tumour Research's Jog 26.2 miles in May challenge.
Mel Tiley, community development manager at the charity said, "Jacob's story is a stark reminder of how indiscriminate brain tumours are.
"We are so grateful for the support of people like Elaine, whose fundraising efforts enable us to continue funding vital research."
Related Internet Links
The BBC is not responsible for the content of external sites.