Rape victim sues police for naming her online
By Johanna Carr
BBC News Online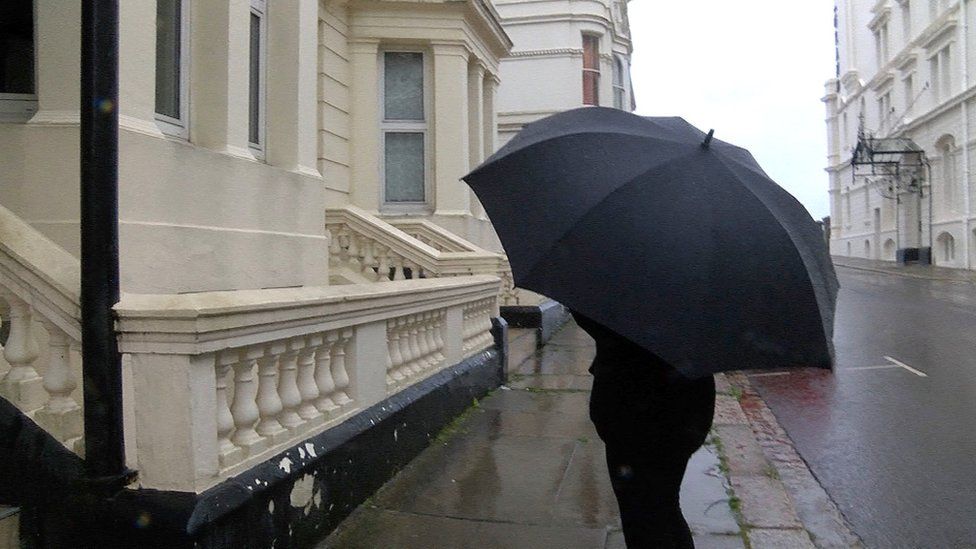 A woman who was gang-raped by men claiming to be Welsh rugby players has sued the police for naming her online.
Jane, who was 17 when she was raped in a Plymouth hotel in 1978, said officers breached her legal right to anonymity as the victim of a sexual offence.
Devon and Cornwall Police admitted misusing her personal information and has settled her claim, agreeing to pay a six-figure sum in costs and damages.
"What's happened to me is a second rape," said Jane.
The force said it was unable to comment on the case.
Jane, whose name has been changed to protect her identity, said she was a normal teenager when she went out with a friend in Plymouth one Saturday, 44 years ago.
She met a man and agreed to go to his hotel with him.
Once there, she had consensual sex with the man who said he was a maths teacher and part of a touring rugby team from Wales.
There was a knock on the door and more than 10 men forced their way into the room before six or seven of them raped her.
Jane reported what happened to police, first in 1993 and again in 2015.
"The first investigation unbeknown to me had been shut down four weeks after it had commenced," she said.
"I came forward 20 years later and asked to see the records of that first investigation, to find that there were no records and that I didn't exist."
Due to her previous experience Jane was reluctant to re-report the rapes but was encouraged to do so and a new investigation was launched.
Trying to track down the officers involved in the 1993 investigation, detectives in the second investigation arranged to have details of her rapes, including her name and address, published on an unsecure website for retired police officers and staff.
Jane said she was unaware she had been identified on the website.
In 2017, senior detectives visited Jane at her home and told her about the publication.
"I went into shock," she said.
"It was literally like an emotional bomb had gone off ... my first concern was that nobody in my family knew."
She asked for information about who had published her details and the name of the website but said the officers refused to tell her.
Jane said afterwards she felt forced to disclose her rapes to her family.
The force did not carry out a criminal investigation and Jane said she had to lobby for the breach of her anonymity to be treated as a crime.
Eventually an investigation was started by another police force, who sent officers to interview her.
Jane said she was not told there was a time limit for prosecuting an offence of breaching the anonymity of the victim of a sexual assault and that charges needed to be brought within six months of the publication being removed from the website.
She said a file was handed to the CPS with "days to run before it expired".
Jane said the CPS was not given full information about the website and that, when the CPS concluded there should not be a prosecution because it felt her details were not accessible to the general public, it was too late for her to appeal the decision.
Anonymity for victims of sexual offences
The Sexual Offences (Amendment) Act 1992 provides life-long anonymity to victims of sexual offences, protecting victims from being identified in the media.
A victim has the right to remain anonymous from the moment they make an allegation that they are the victim of a sexual offence.
The law states nothing which could lead members of the public to identify a victim should be published, including their name, address, their school or place of work or a picture of the person.
Source: www.legislation.gov.uk
Jane said she had been told the website was password protected but because the officers had refused to tell her the name of the website, she was unable to check.
She said: "Nearly a year-and-a-half later I was going back over the papers, the CPS wrote to me, the person who looked at the case had named the publisher and he had named the website and within 20 minutes of properly looking for the website, I was in.
"That's two years after they had told me that it was password protected - it still wasn't password protected."
In the months and years that followed, Jane pursued a number of professional standards investigations, carried out by two other police forces, before appealing to the Independent Office for Police Conduct (IOPC).
In 2020, the IOPC determined two named officers - a detective inspector and a detective constable - "may have breached the standards of professional behaviour".
The IOPC report said: "This decision is somewhat academic because both officers have retired, and the legislation prohibits me from finding a case to answer for misconduct."
It said the conduct of the two officers was not believed to have "reached the threshold to be considered gross misconduct".
The report said the detective inspector involved was "ultimately responsible" for organising the post on the website which "breached" Jane's anonymity and "this was most likely due to him being ignorant of the relevant legislation or he failed to conduct due diligence into the security and accessibility of the website".
It said: "Despite the fact that failings have been identified, I have not identified any sense of contrition or consequence on the part of the force and no apology has been offered."
The IOPC added that had the time limit for bringing charges under the Sexual Offences (Amendment) Act not expired, it would have "recommended a re-referral to the CPS in respect of the anonymity breach to test whether 'additional information' would have affected their charging decision".
Jane said she felt compelled to engage her own legal representation because "the police made it known that they were not going to act in my best interests".
In March 2021, Devon and Cornwall Police's legal team confirmed the force admitted liability for misuse of Jane's private information, breach of confidence and for breaching her rights under the Data Protection Act by placing her identifying details on the website.
The financial settlement was agreed at the end of 2021.
"[When they initially came and visited me] they could have avoided four years of absolute hell for me, they could have avoided the amount of money that they have had to pay for the case to be concluded and they could have shown contrition," Jane said.
She said she had asked for a face-to-face meeting and an apology from Chief Constable Shaun Sawyer, who was named as the defendant in her case, in exchange for a reduction in the settlement.
This offer was declined and the force paid the higher amount, she said.
"The important thing for rape victims is to know that they can come forward in safety with trust and be assured that the police are working for their interests ... what I've experienced is quite the opposite," she said.
No-one has ever been prosecuted for Jane's rapes, meanwhile, the investigation continues.
E-fit images of the two men, who Jane believed were friends with her rapists but did not rape her, were released.
The force told the BBC: "In adherence with the Sexual Offences [Amendment] Act 1992 we are unable to disclose details of any victim of a sexual offence to a third party without their explicit consent.
"In line with College of Policing guidelines we are unable to confirm nor deny whether any identified individual has been a victim of a crime or has been involved in a police investigation.
"Therefore, we are unable to comment further on this matter."
Jane called on the public to help identify the men who raped her.
She said: "Do I have hope? It's dwindling. Potentially I don't feel there's the will to investigate ... I know it's been a long time since those rapes but I would ask people to come forward ... if the police can't do it then it is down to the general public isn't it?"
Jane said throughout her ordeal her "ability to consent to things that are happening to me has been taken away, firstly by the rapists and I would say that what's happened to me again is a second rape".
She said: "I understand my rapists, rapists rape, I don't understand the police ... I would personally rather face my rapists than ever have to face the trauma of going through a rape investigation."
A spokesperson for the Devon and Cornwall Office of the Police and Crime Commissioner (OPCC) said: "It would be inappropriate for the police and crime commissioner to comment on any individual case. However, the commissioner does have a role in monitoring how the police handle and respond to complaints about Devon and Cornwall Police, its officers and operational police staff.
"Complaints should be sent directly to the force in the first instance.
"If a complainant is unhappy with the outcome of that complaint the OPCC can then review the case and will appoint an independent chair to carry out the review."
Related Internet Links
The BBC is not responsible for the content of external sites.