Thunderstorms cause flash-flooding in Devon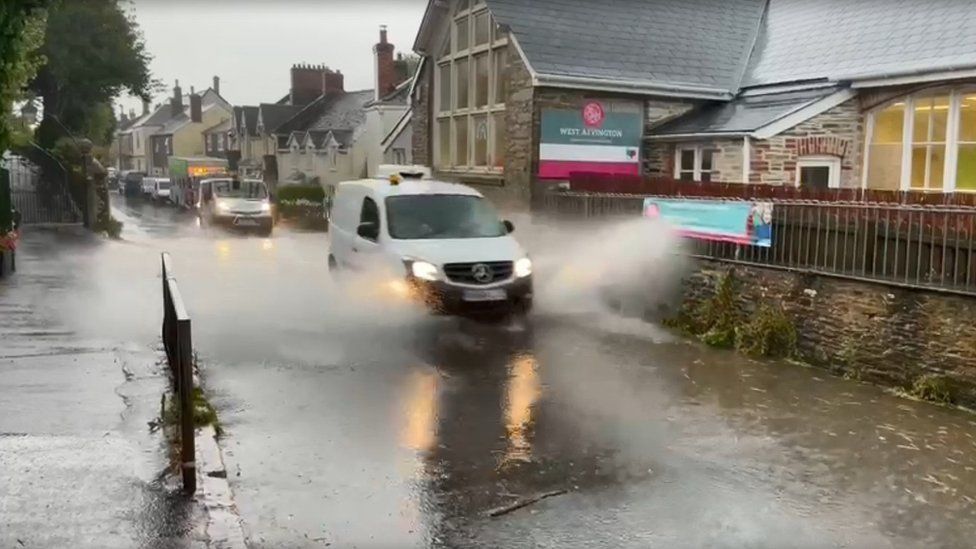 Thunderstorms have caused flash-flooding and travel disruption in some parts of Devon.
The South Hams has been the worst affected area, with a number of businesses in Salcombe saying torrential rain saw them flooded.
Several roads in Kingsbridge, West Alvington and Plymouth also became impassable due to flood waters, and a Plymouth school was hit by lightning.
PC Emma Buley, from Devon and Cornwall Police, said on Twitter that floods in Salcombe had "affected dozens of businesses".
In Salcombe, Fore Street was flooded, with people having to wade through knee-high water before it receded "nearly as fast as it flooded", local people said.
Several businesses in the town, which said they had dealt with such situations before, confirmed water had got in.
Staff at the King's Arms pub, which put up anti-flooding barriers on its doors, said it "did get quite flooded".
However, they still planned to reopen later on Wednesday.
Suzanne Harris, of Cranch's Sweet Shop, said there were "literally fountains in the street".
She said: "It came in quick, it was absolutely torrential, and we know the drains won't cope with it.
"Fortunately, the tide was out, which means water goes down quicker."
Elsewhere, flooding was reported near the quay in Kingsbridge, and the A379 near Churchstow was described as only "passable with care" before water there receded.
Police advised drivers in any affected areas to "be careful".
Flashes of lightning have also been reported across the county, including in Plymouth and in the South Hams.
One major road in Plymouth, the A374 Gydnia Way, was closed due to flooding.
A primary school in the city was evacuated after lightning hit the building.
Children at Mount Street Primary School were moved out after the strike hit the side of the building and tripped the alarm, but there was no fire and no injuries.
It did affect the telephone and internet systems, but the fire service confirmed everything was safe, staff said.
The city's recently expanded and refurbished museum and archive, The Box, tweeted that it had to close as the storm "took out some of our systems", but it was "working around the clock to get them back on line so we can re-open ASAP".
One person who texted BBC Radio Devon, Aussie Chris, from Lustleigh, who is on a boat at Hope Cove, near Salcombe and Kingsbridge, said the weather had been "just incredible for two hours".
He said: "[There were] huge bolts of lightning and deafening thunder claps, obviously with torrential rain."
"Sadly, the flash-flooding through the village [Hope Cove] is washing the beach sand out to sea - there is a yellow strip of water heading out to sea."
The Met Office tweeted that "some localised flash flooding is possible" in Devon and Cornwall.
The forecaster said: "Spray and sudden flooding could lead to difficult driving conditions and some road closures."
It also said there was a "small chance" that some communities could become cut off by flooded roads and a "slight chance" that "power cuts could occur and other services to some homes and businesses could be lost".
An initial yellow warning covering all of Devon and much of mid and East Cornwall is in place until 21:00 BST.