Covid: Family keeps Chagford bells ringing through pandemic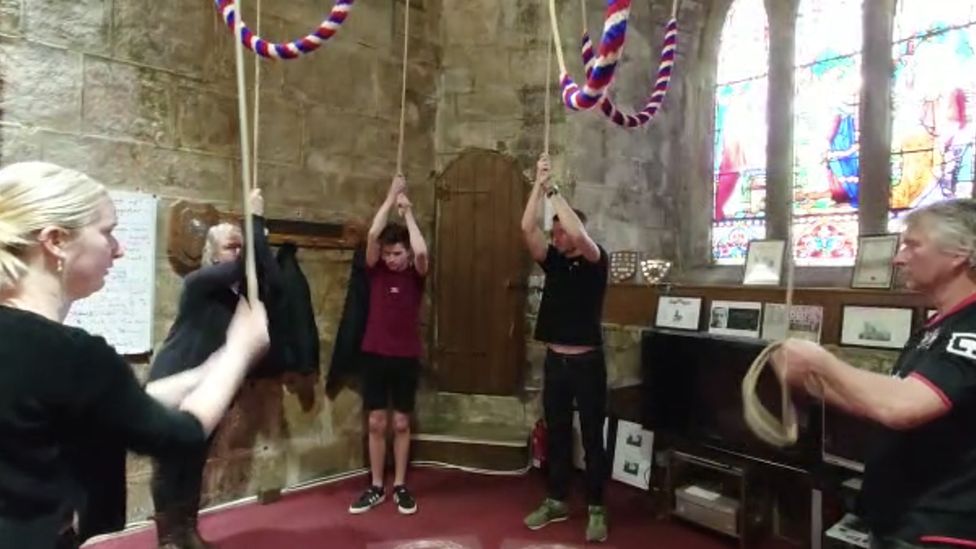 A family have single-handedly kept a town's church bells ringing by reuniting during the pandemic.
The Bints, who live in Chagford in Devon, formed a support bubble when their children returned home at the start of the crisis.
Jon Bint said it meant they were in a "unique" position to ring the bells in line with Covid-19 guidance.
He described the family's experience as a "one-off moment in time".
Many parishes across the UK fell silent during lockdown as churches were forced to close, and social distancing made it difficult for more than one household to ring the bells.
The family affair began when Mr Bint first met his wife bell-ringing more than 30 years ago.
Over the years they passed on their skills to their two sons Joe and Gabe, and more recently, their daughters Holly and Morwenna.
When 22-year-old university student Joe moved back home for his final year during the pandemic, a perfect opportunity arose.
"The circumstances are unique - for a start that everybody is home," Mr Bint said.
"It's kept me going really. And it's been a great thing to do as a family unit."
Mr Bint said he was "humbled" by the positive reaction from other residents.
"I've had folks stopping me in the street during that first lockdown and thanking me for what I was doing.
"It's meant a huge deal in the town, I know it has," he said.
Holly, 18, who started learning during England's first lockdown, said bell-ringing was "a lot more difficult" than it looked.
"It takes a lot of skill and concentration. You're trying to work out what everybody is doing and where you fit into the whole thing," she said.