Plymouth Sound volunteers plant seeds to restore seagrass meadows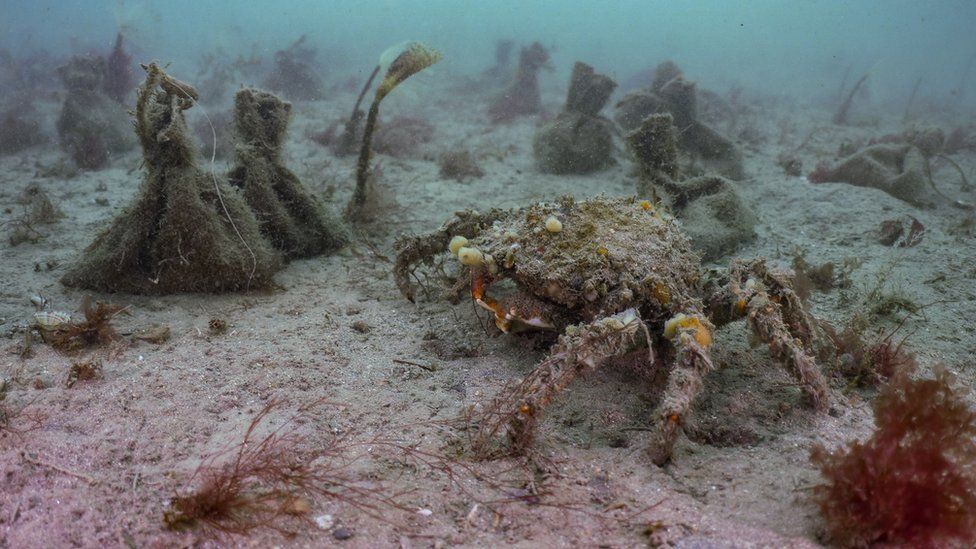 Volunteers have worked to restore undersea meadows in England's largest seagrass planting effort.
Around 16,000 bags of seeds and 2,200 seedlings have been planted in Devon's Plymouth Sound National Marine Park since 7 April.
The £2.5m project aims to grow eight hectares (80,000 sq m) of meadow in Devon and Hampshire over four years.
Up to 92% of UK seagrass has been lost to disease, pollution and disturbance over the last century, research shows.
The LIFE Recreation ReMEDIES project is being spearheaded by Natural England and the Ocean Conservation Trust (OCT) and funded by the European Union.
Seagrass seeds were bagged at the National Marine Aquarium in Plymouth by aquarium and OCT staff and volunteers.
The seedlings have been grown in the aquarium's seagrass laboratory since January.
Both have been distributed on seabeds in the protected area over a two week period, hoping to restore four hectares (40,000 sq m) of seagrass meadow.
Mark Parry, from the Ocean Conservation Trust, said the work had taken more than a year of planning and its completion was a "very proud moment".
He said: "This truly is a community effort. It is incredible to see the support from local communities supporting habitats for our animal coastal communities."
The project also aims to plant a similar area in the Solent Maritime Special Area of Conservation in Hampshire and the Isle of Wight.
Seagrass meadows help absorb excess carbon dioxide from the atmosphere which contributes to climate change, the project explained.
As well as helping to manage carbon emissions, the plant also provides a habitat for juvenile fish and endangered marine animals like seahorses.
Meadows also play a critical role in cleaning the surrounding seawater and stabilise the seabed, protecting the underwater environment.
Related Internet Links
The BBC is not responsible for the content of external sites.