University of Exeter student feeds thousands of families
By Miles Davis
BBC South West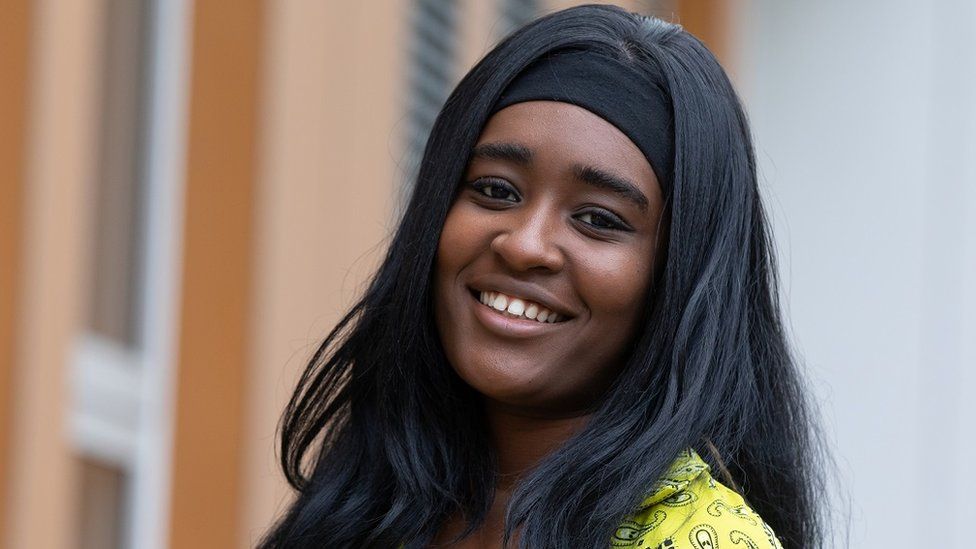 When Maia Thomas saw a post on Facebook from a young woman asking for food she decided to take action.
Ms Thomas, a 21-year-old University of Exeter student, asked Jess Baker what she needed, put together a food package and delivered it within the hour.
When others saw Ms Thomas's response they too asked for help and she realised there was a large gap to fill.
Within the first six weeks Ms Thomas and a team of volunteers delivered more than 2,500 food packages.
Speaking about helping Ms Baker, Ms Thomas said: "She was about my age. She has got a lifetime ahead of her and I wanted to help her to hopefully have a better future.
"She was really overwhelmed - she had virtually nothing in her cupboard so getting a food package was life-changing.
"It opened my eyes and made me think there must be so many people who need help who might not have the confidence to publicly ask for it."
She set up Feed Our Community to deliver food and emergency gas and electricity top-ups to people in need.
Ms Thomas started off using her own money to buy food packages.
As well as being a third-year Politics student she is a consultant on equality in schools and promotes some brands through her Instagram page.
She managed to get food donations from farmers and independent shops and has now set up deals with supermarkets to get donations and surplus stock.
Ms Thomas prepares the food packages herself with help from a friend and has a team of volunteer drivers which take the food around Exeter and further afield in Devon.
She said: "I have a really tight schedule.
"But when you realise the difference you're making to people's lives you will make time.
"It's just about choices. I work until 10 or 11 at night but that's the difference between someone eating or not eating."
Jess Baker was working for an agency as a cleaner at Ikea when the first lockdown started.
Both she and her boyfriend lost their jobs and over time they struggled to make all the payments on the flat they had just moved into in the St Thomas area of Exeter.
She put up a post on the St Thomas Community Facebook page asking for help in January.
She said: "We had three potatoes in the fridge and the cupboards were empty."
Ms Baker said she cried when Ms Thomas arrived at her flat with food and £20 to top up her electricity.
"She deserves a million medals and everyone needs to know what she's been doing," she said.
"At the age of 21 she's already made this much of a difference. I'm so excited to see what a difference she is going to make to the world."
Ms Baker now has a job cleaning chalets in Dawlish on the south Devon coast and is hoping there will be more work as the country comes out of lockdown.
"We could not have got through it without Maia," she said.
Ms Thomas said Ms Baker was one of many people who needed immediate help and were not aware of systems of referrals to foodbanks.
She said "using the right language" on social media and the fact people can just message her privately meant she was in touch with people who might not know how to get help.
Ms Thomas describes herself as a community activist who founded the Black Lives Matter group in Exeter.
She said: "There are a lot of communities where people think it's better to suffer than to admit they have nothing.
"It was really important to reach those unreachable groups including disabled people or people with mental health problems.
"I knew it was a problem but you never realise what it's like until you open yourself up to the suffering that's there."
Ms Thomas also invites people she helps to group Zoom meetings where they can learn more about personal finance, budgeting and meal preparation.
A GoFundMe page which she started has raised more than £8,000 and she is speaking with other groups in the city about setting up a hub which would be a centre for food distribution and other forms of support for people on low incomes.
She said: "As soon as I started this I realised the sheer number of people in need."